5 Tips for a successful school year
Can you believe the slow moving, no set schedule, wake up when you please, lazy days of summer are over? For some of you school has already started and for some of you it will in just a few days. Sadly, your summer vacation days are either over or numbered. But no worries, I am sure an exciting school year lies ahead.
What's on your mind as you think about this new school year? Do you want to have a successful school year? What are your plans and goals? I'm sure you have many thoughts running through your mind as you begin a new school year. I'd like for you to consider a few suggestions as you set your calendar for a new school year.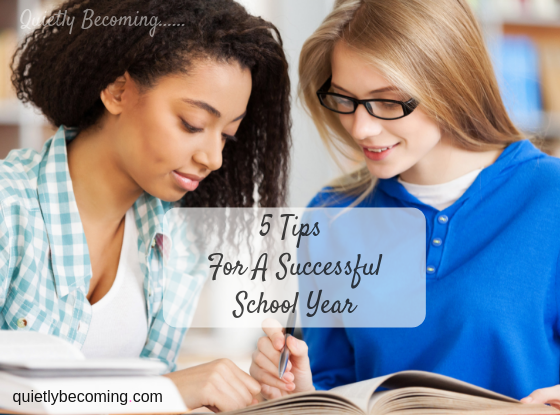 5 Tips For New School Year
Set goals for yourself.
What do you want to accomplish this school year? Are there areas you didn't do as well as you would have liked last school year? Write them down. Decide what you need to do in order to improve in those areas.
2. Be organized.
Have a planner, record due dates of all assignments and quizzes. Schedule time to study. The Bible says in 2 Timothy 2:15, Study to shew thyself approved unto God. This scripture does not only apply to the word of God but can apply to your schoolwork as well. Preparation is important. Don't leave anything to your memory, it often fails you at the most inopportune time.
3. Do something different.
Last school year may not have been as successful as you wanted it to be. Learn from your mistakes and do something different this school year. Did you study as much as you should? Were you organized? Did you ask for help when you needed it? Don't continue to do the same thing every year while expecting the result to be different.
4. Don't Stop Trying.
It's easy to get discouraged when you don't achieve the results you're expecting right away. However, don't stop trying. If you'll continue to follow your set plans and keep trying, eventually you'll achieve the desired results you're looking for.
5. Seek God Always
Except the lord build the house they labor in vain that build it… Psalm 127:1. Your Heavenly Father wants you to succeed. Seek Him every step of the way. Ask Him for guidance and help as you strive to make this school year your most successful one yet.
I am praying for you and cheering you on as you begin a new chapter in your educational journey.
Cheering you on,
Bernadine